Joined
19 February 2023 (1 month ago)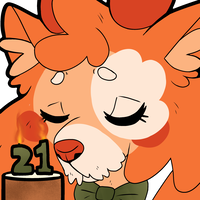 Hey Hi helloo!
Welcome to my profile! I'm new here and I'm trying to get settled into the site, still working out on how this stuff works

Some extra info
My name is Tyler but you can call me Tulip, Tea or just Ty
I am Trans (FtM) and I use He/Him/His pronouns
I am Bisexual(or romantic I'm not sure what the right label is called)
Some fandoms i am Active/enjoy is Cookie run, Warrior cats, Professor Layton, FNaF, Pokémon, and MLP
If you wanna be friends I don't mind at all! I am a little bad at socializing because of some social anxiety issues but I'm generally kind hearted
Bank
130
---
There are no comments yet.
Comments
Authentication required
You must log in to post a comment.
Log in